Tours, Packages, Cruises, Cooking Classes & Transportation
We are not a regular company
We're the first and only social & sustainable tours agency in Lima
We will take you on an adventure through Peruvian culture, cuisine, and traditions. You will have a FUN & UNIQUE experience with us, taking a tour with Haku Tours also means that you are helping the less fortunate!
We are a proud supporter of our nonprofit sister organization: Reciprocity NGO. Our profits go towards helping the communities living in extreme poverty in the slums of Lima. Visit our Social Projects page to learn more about how we help many families in the shantytowns.
Our tours are in small groups of 6/7 people, only on special occasions 10 people, to ensure that you will have the best quality of service.
With great happiness we also announce that Haku Tours has the official license of  "Marca Peru" (Brand Peru).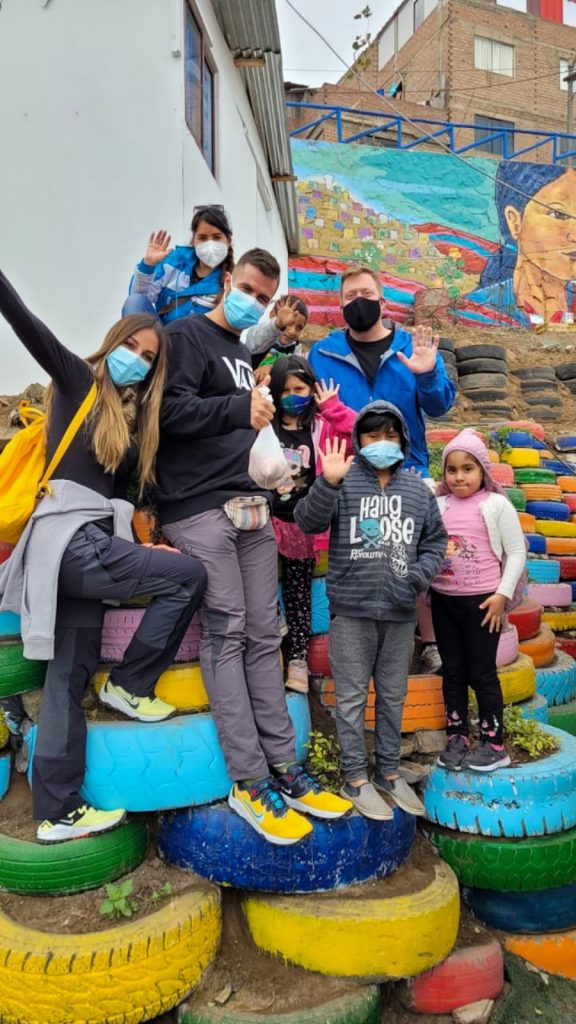 Amazing Experience! Great experience! The guide and chef were both so nice and helpful. At the end, we received the recipes of the food we cooked so we can enjoy it at home. Would definitely recommend and would do it again.
1highplainsdrifter
2023-09-09
Enjoyed & would recommend! Took this tour on my first full day in Lima as an intro to downtown Lima. The pickup was on time as promised and the driver was superb at navigating Lima's crazy traffic. Cesar is an upbeat, cheerful, and friendly guide who answered all of our questions and even treated us to muy delicioso churros! The catacombs were definitely a highlight of the tour. I was the only one of the group to stay past the tour for dinner and the water show. Dinner felt like I eating out with a friend, and he even gave me some tips and advice on questions I had about my travels in Peru after leaving Lima. The water show was well done & entertaining. The tour didn't feel rushed, either. I would recommend and ask for Cesar! (And tell him I tried the picarones and am a big fan!!)
Lima city tour Great city tour of Lima with Cesar yesterday. His enthusiasm and knowledge combine to make a very enjoyable experience. We look forward to booking with this company again for another tour on our return to Lima
BonnieLosAngeles_CA
2023-09-08
This is a great introductory tour of Lima My partner and I enjoy visiting markets everywhere we travel in the world. We like to see how the local people live, eat, and what they buy and sell. But best of all, we love meeting and engaging with the people! When I saw the description of this tour, I knew it was perfect for us. And there were 2 more bonuses: we were the only two and our guide was Aura! She was sweet, fun, smart, and a perfect guide for this tour! Her explanations were educational and interesting. Within a few minutes, she felt like a new friend. Her manner with the sales people exhibited how well-liked she is. We tried so many new and different foods and learned so many different things. I think this tour was a perfect introduction to Lima, its food, and the wonderful people. Kudos to Aura, and we hope to take another tour with her before we return to the U.S.
Informative tour for first day in Lima. We had an amazing guide and lucked out being the only 2 people on the tour. Pickup at our small hotel (not on their list) was punctual. The driver dropped is off in the historical center where we began the tour and accommodated our request to drop is off at a restaurant at the end. We easily took an Uber back to the hotel. Our guide was full of knowledge and very aware of the political climate always keeping us in safe areas.
Super Experience 🙂 It was amazing 🙂 Our guide was so kind and knew sooo much. I did it on my first day in Lima and it was so worth it! 🙂
KAYHAN MALI MUS... S
2023-09-06
Harika bir tatil , harika bir deneyim Güzel bir tatildi . Herşey sorunsuz güzeldi. Personel arkadaşlar da gayet ilgili ve güleryüzlüydüler. Herkese tavsiye ederim. Özellikle misafir ilişkileri ersen ata bey ve Hatice abla ye teşekkür ederiz .
Do not miss this opportunity! We had an amazing and informative, yet personal experience. We so much enjoyed the local market and time with Aura and Ruth learning to make delicious, traditional peruvian dishes! Would definitely recommend and would do it again! An awesome way to spend an afternoon! Can't wait to cook these at home 😃
Pachacamac Tour From Lima We enjoy learning the history of places we visit. Pachacamac ruins and the beautiful museum there, was perfect for us. We booked our tour many months in advance of our visit and right up until the date of our tour, Haku Tours answered all our many questions promptly and with courtesy. Everything was exactly as described and they catered to some individual requests that we made. Our guide was friendly, courteous and a great source of information. Thanks, Haku.
A fun discovery tour This was a really fun tour, packing a lot of tastes and smells in a few very pleasant hours. The fish tasting was a joy. Cesar, our guide, was amazing! he gave us excellent tips, during and after the tour. Strongly recommended if you wish to meet Lima through some of its tastes.