Tours, Packages, Cruises, Cooking Classes & Transportation
We are not a regular company
We're the first and only social & sustainable tours agency in Lima
We will take you on an adventure through Peruvian culture, cuisine, and traditions. Our tours are in small groups of 6/7 people, only on special occasions 10 people, to ensure that you will have the best quality of service!
You will have a FUN & UNIQUE experience with us, taking a tour with Haku Tours also means that you are helping the less fortunate! 
We are a proud supporter of our nonprofit sister organization: Reciprocity NGO. Our profits go towards helping the communities living in extreme poverty in the slums of Lima. Visit our Social Projects page to learn more about how we help many families in the shantytowns.
With great happiness we also announce that Haku Tours has the official license of  "Marca Peru" (Brand Peru).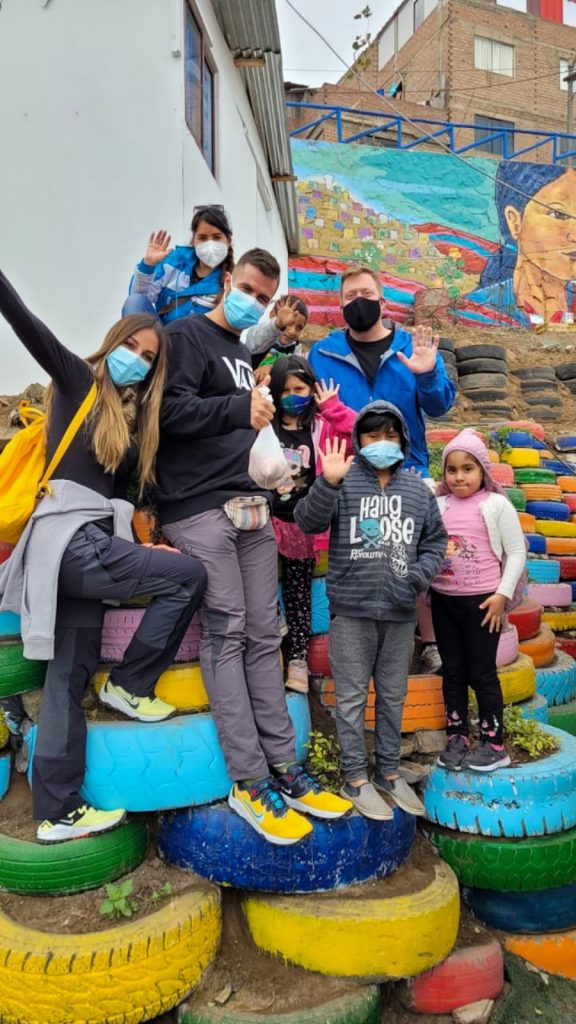 Shanty Town Tour Our tour started in Shanty Town at the fruit and vegetable vendors purchasing healthy treats for the children that we would later meet. The vendors at the fruit/vegetable stands were delightful and happy to see us. Our guide and translator educated us about the fruits and vegetables native to the area, many of which were unfamiliar to us. As we progressed further in Shanty Town, we encountered many children and some parents, all of whom were treated to share the bounty from the food vendors. We were treated to a wonderful interaction with some of the people of Lima, thank you to Haku Tours for providing the opportunity.
Definitely worth it! My brother and I attended the walking tour, and had a great time learning about the history of the city. Our guide was amazing as well, and she took great care of the group; explaining everything in great detail. I really enjoyed this tour!
Great first morning tour Leonardo was a fabulous tour guide. Enthusiastic, friendly, fun and entertaining. We ate, we walked, we heard stories, we even had ice cream.
Amazing Tour of Lima Leonardo was an amazing tour guide. He was a walking historian. Leonardo spoke about social -economics, religion, symbols, war, and Peruvian culture. He also shared personal stories and gave me great restaurant recommendations. I could not have asked for a better guide.
Together! Food brings us together. Together we source and buy food, prepare and cook, eat and drink. Together with family, with friends, with business associates, with lovers, and with strangers we come together to enjoy and share food. My wife, Lyndall, and I joined the Huka Peruvian Food Experience led by the wonderful team of Cesar and Ruth. Together with three Americans, Cesar showed us through el Marcado Numero Dos where he patiently and knowledgeably explained the fascinating fruits, vegetables, meats, and fish that were on display. Many of which we have in Australia but many we do not. Then we were taken to an apartment where we were instructed by Ruth as to how to cut, slice, chop, dice and cook each different food, all the while with Cesar expertly translating each step for us none Spanish speakers. In between, Cesar spoke to us about where the food came from, the history and politics of Peru, his life, studies, and travels and answered the many questions we put to him. He also explained about Huka's work with Peru's poor and how some of our payment went to supporting families in need. As each course was completed, we moved from the impeccably clean and organised kitchen to the beautifully laid out and presented table where we eagerly devoured our delicious meal. Each course was varied, Peruvian oriented, and thoroughly enjoyed. Lyndall and I agreed it was one of the best things we did during our time in Lima.
Fabulous experience Fabulous thing to do. Visit to the market was very informative. Cesar was lots of fun, very friendly and great at bringing the group together. And a fantastic interpreter answering many of my obscure questions about Peruvian life. Ruth, the chef, is obviously very experienced at this and has kept her enthusiasm. Overall a great experience- the best thing we have done in Lima.
BLOWN AWAY Haku tours really showed us what family hospitality feels like. From the pick up, Cesar was warm and friendly. When he took us to the market to shop for the ingredients i felt nostalgic and i instantly traveled back to a moment in my childhood. My husband truly got the local experience he was looking for. I really loved how Cesar made us feel safe while traveling to the market. When we got back to the kitchen chef Ruth transported us to what felt like a moment in my grandmas kitchen. She was so pleasant that even though there was some sort of language barrier we still understood her with her grace and positive set. The food was AAMAZING! i am so glad we did not eat lunch. We truly enjoyed the history behind the food. One of a kind tour! 5 stars!
Roberta bonavit... B
2023-05-02
Experiência nota 10 Foi muito bom. Aprendemos e nos divertimos as comidas peruanas num ambiente agradável e muito bom. Recomendo 100%.
Fun day Amadeo was an awesome guide. Got to see lots of great things and got a lot of information and recommendations for places to visit during my stay in Lima.
Great experience! I loved everything about this tour! It was truly a great and eye opening experience with a lot of cultural and historical facts, we were able to taste a wide variety of local food and had the opportunity to discuss with many locals. I highly recommend this tour if you want to learn about and discover the real Lima!