Tours, Packages, Cruises, Cooking Classes & Transportation
We are not a regular company!
We're the first and only social & sustainable tours agency in Lima
We will take you on an adventure through Peruvian culture, cuisine, and traditions. Our tours are in small groups of 6/7 people, only on special occasions 10 people, to ensure that you will have the best quality of service!
You will have a FUN & UNIQUE experience with us, taking a tour with Haku Tours also means that you are helping the less fortunate! 
We are a proud supporter of our nonprofit sister organization: Reciprocity NGO. Our profits go towards helping the communities living in extreme poverty in the slums of Lima. Visit our Social Projects page to learn more about how we help many families in the shantytowns.
With great happiness we also announce that Haku Tours has the official license of  "Marca Peru" (Brand Peru).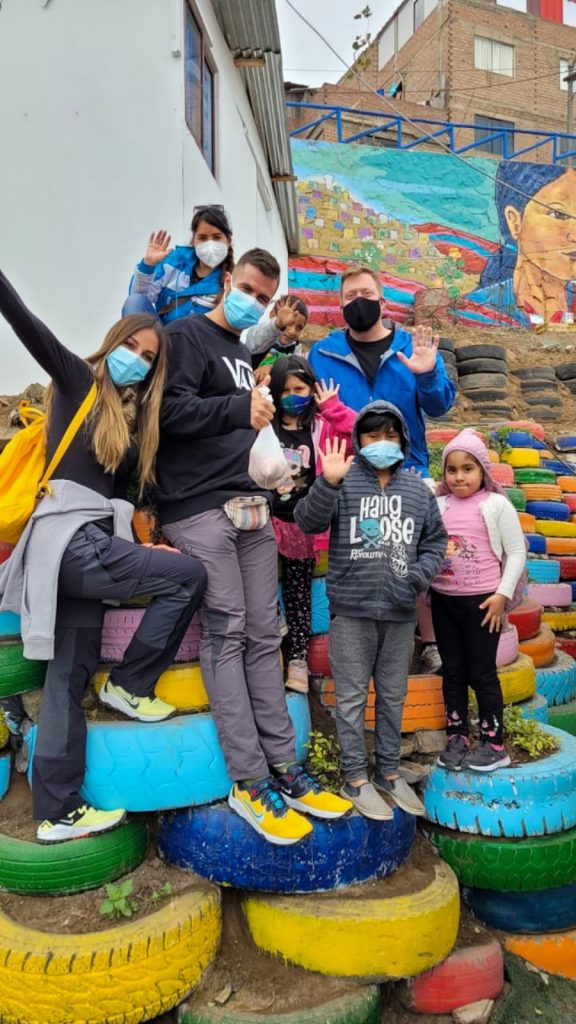 Wow is not quite enough Wow - what a great guide I had, fun, polite and knowledgeable, felt safe even though it was just the guide and myself not a group. Even just after the political violent protest- we spoke freely. When offered the churros say yes mmmmm. Had a great tour. Excellent service. Then arranged airport transfer with them which went like clockwork too.
MUST SEE EXPERIENCE IN LIMA Junior and Amadeo were absolutely amazing! Both were extremely knowledgeable and helpful throughout the entire tour. My family and I really enjoyed spending the day with them. I definitely recommend taking a tour with Haku Tours!
Unforgettable My wife and I are celebrating our anniversary of 7 years. It's our first time to Miraflores in Lima, Peru. Our trip was highlighted around this amazing bike tour we took with Amadeo & Mabel from Haku Tours. They were extremely kind, resourceful, and knowledgeable of the cultural aspects of Peru, as well as welcoming & hospitable to us. They made sure we were safe amongst all the crazy traffic as well... We will never forget this life changing experience.
An excellent way to learn about Peruvian cooking I really liked this experience, as the cook leading it was excellent. She was good at explaining the next steps, organized-and positive the whole time even if I was clumsy. We did the whole thing slow enough for me to learn it all properly. It was a plus Haku combined my class with another, so we got even more delicious dishes, and I got insight in how to make even more great Peruvian food. The cook was assisted by one of the organizers, who did his very best to make this a great experience; helping out when needed, giving extra advice. My only regret was that I did not have time to join for the trip to the market, I arrived quite late to Lima that evening. Next time I go to Lima, I would love to do a similar class with Haku and include a market visit.
Aura's radiant energy and enthusiasm made this already amazing your even MORE worthwhile Overall the experience was very pleasant. The team quickly confirmed the reservation and answered any questions with equal speed. Aura, our tour guide, was an excellent resource to have while strolling through the city centre. Her enthusiasm and knowledge help shape the experience into the highlight of my trip. If one is looking to get acclimated with Lima's city centre - look no further.
Informative and enjoyable tour Amadeo was a wonderful tour guide. Very friendly and knowledgeable. His tour of Lima was informative and enjoyable.
Kiranmayi Guide Amadeo from HAKU was very well spoken, Friendly and knowledgeable . If you have only few hours at Lima City and would like to explore City center and History , this is the best for you !
Fun time for adults and teens! Our group had a lot of fun! We had music, drinks, and great food. Our guide picked us up at our hotel and was super friendly. The chef Ruth was an excellent teacher. We had different skill levels in our group and she worked really well with all of us. They made this a really fun time for everyone. Highly recommend!
Amazing experience Super awesome service! They're very warm and welcoming and we got to know a lot about history of the indigenous people of Peru, Peru the entire country in a short 10 minute ride. Edwin was the best! They are very professional and reliable. 10 stars if we could