We are not a regular company!
We're the first and only social and sustainable travel agency in Lima
We will take you on an adventure through Peruvian culture, cuisine, and traditions. Our tours are in small groups of 6/7 people, only on special occasions 10 people, to ensure that you will have the best quality of service!
We are a proud supporter of our nonprofit sister organization: Reciprocity NGO. Our profits go towards helping the communities living in extreme poverty in the slums of Lima. Not only you will have a FUN & UNIQUE experience with us, is more than that. Taking a tour with Haku Tours means you are helping the less fortunate! Please, visit our Humanity Projects page to learn more about how we help many families in the shantytowns.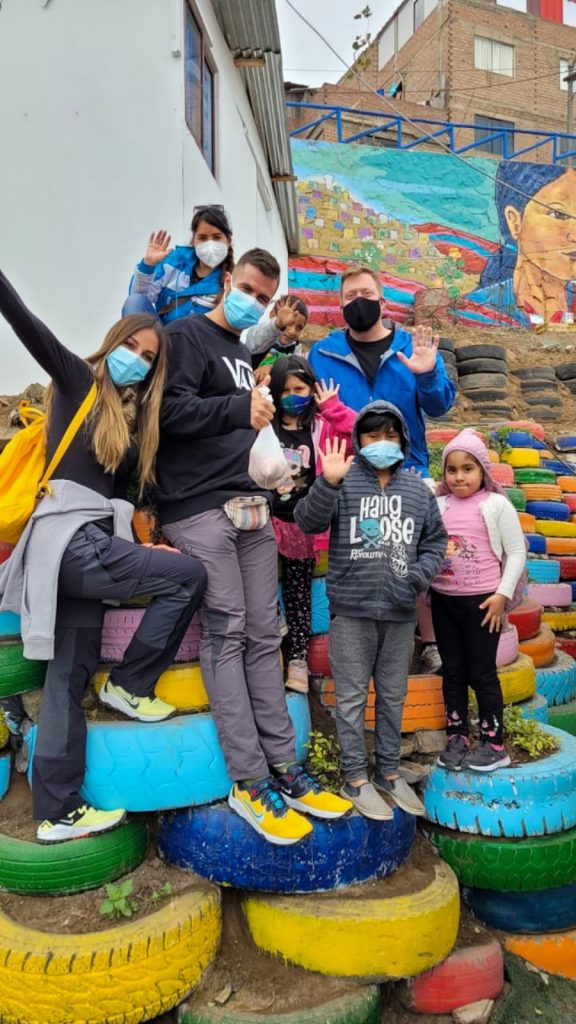 Hey friends! we are back again, offering unforgettable experiences in Lima, Cuzco and other destinations in Peru and also the best highlights of South America.
Join us.
"The best experiences begin with us"
Hey friends! we are back again, offering unforgettable experiences in Lima, Cuzco and other destinations in Peru and also the best highlights of South America.
Join us.
"The best experiences begin with us"

Verified
Super cocina 🤤 Preparos causa limeña y lomo saltado Ademas de los tips para cocinar, las recetas, saber de la historia de cada platillo (super interesante), utilizamos ollas de barro y todo muy tipico de Peru. Me encanto, lo super recomiendo! Ademas se genera un ambiente agradable, con musica, platica y muchos sabores.

Verified
Amazing class I've taken a few cooking classes in my life and this was definitely the best one! The class was just my boyfriend and me and everything was organized so well. We had a blast making causa and lomo saltado. Initially my boyfriend wasn't that excited when I booked this for us because he hates cooking but even he had a great time. Would definitely recommend this to anyone visiting Lima!
Verified
Découverte Inca J'ai beaucoup appris durant cette expérience, grâce à un guide amical, très compétent et généreux. Merci pour votre investissement !

Filipe Marques
2021-08-12
Verified
Ajudar a comunidade local com a HAKU Tours Fomos visitar uma comunidade na favela de Lima que a Haku Tours está a ajudar a melhorar. No centro comunitário que construíram preparam-se diariamente refeições para mais de 100 pessoas e dá-se apoio escolar às crianças. Pudemos testemunhar a vida muito difícil desta gente e também a sua alegria e hospitalidade. Uma óptima experiência para os nossos filhos de 8 e 10 anos… Para além do nosso guia Jimmy e condutor Hélio, estivemos sempre acompanhados por um líder local da comunidade e sentimo-nos sempre seguros. A HAKU Tours é uma ONG sem fins lucrativos, ao comprar os tours desta empresa estamos a ajudar as comunidades locais. Recomendamos !

Verified
Excellent tour and tour guide We highly recommend Saul from Haku Tours who took us on a walking tour in Lima. He is very knowledgeable and attentive and provided great insight into Lima's history. There are many hidden treasures within the city that we would not have known existed if Saul hasn't pointed it out to us. Lima is a city rich in culture and you should definitely book this tour.

Adventure580308
2021-08-08
Verified
El mejor plan que hice en Lima! El plan es ESPECTACULAR. La atención de Jimmy desde el momento que te recibe en el hotel, hasta que termina el plan, es buenísima. Hay mucha comida para los asistentes, buena música, buen ambiente. Vale toda la pena!

Verified
Great tour for both a former resident of Lima and a first time visitor! My boyfriend (who grew up in Lima) and I (first time visitor) had a walking tour with Amadeo on Thursday and it was simply fantastic. He was extremely knowledgeable and set a pace where we didn't feel rushed but still got to see a lot. He does a lot of different types of tours and we will definitely be signing up for another one for our next trip. If you're looking for one to start with, the monastery and catacombs are a can't miss!
Verified
A must tour if your are in Lima. Edwin and his partner had vast amounts of knowledge of the area and showed us lots of hidden gems! He also introduced me to another great tour guide for the latter part of my trip. 10/10 highly recommended 🙂 Thanks Edwin
Verified
Great service Super professional and punctual driver. Highly recommended service. Great communication from the team and super friendly.