Classic Inca Trail (4D/3N)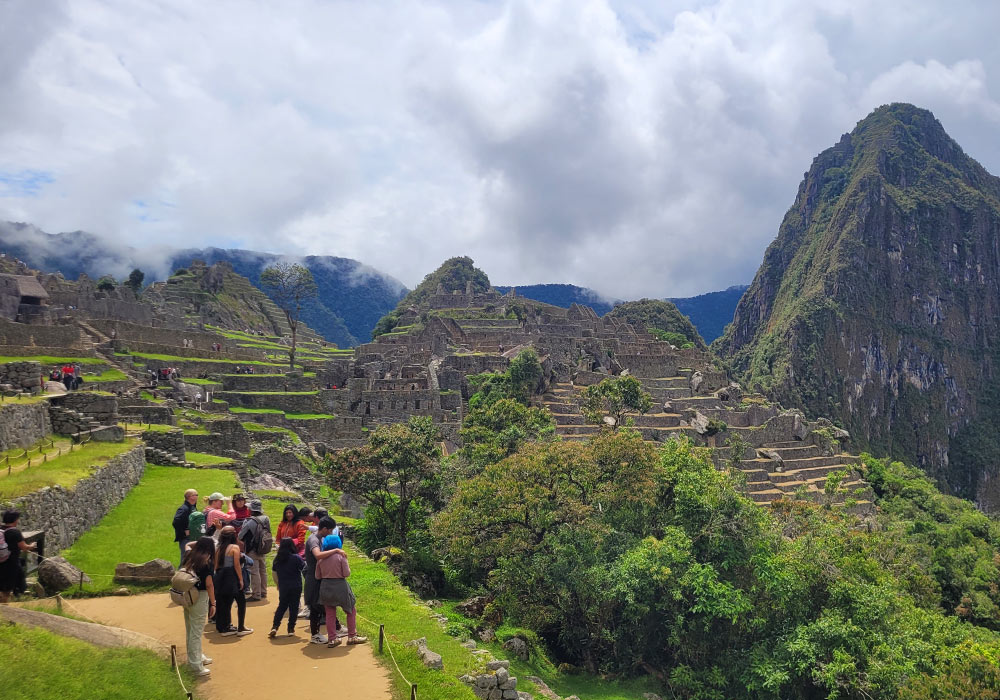 Among the world's top hikes is the Inca trip that leads you towards Machu Picchu. Essentially, the Inca Trail is a mountainous forest hike leading to the holy Inca city of Machu Picchu. The massive 33km trek normally takes 4 days to complete, combining a remarkable mix of Inca remains, green cloud forest, mountain scenery and a vivid sub-tropical jungle.
More than 250 orchid species have been discovered in the Historic Sanctuary of Machu Picchu. Those who wish to conquer the challenging Inca Trail to Machu Picchu will require a certain degree of fitness. However, age shouldn't obstruct your path. It is very essential to be properly acclimatized to this altitude.
DAY 1 CUSCO: Transfer to Km 82 – Hike to Huayllabamba
DAY 2 CUSCO: From Huayllabamba To Paqaymayu (Crossing The Highest Point)
DAY 3 CUSCO: Paqaymayu To Wiñayhuayna (Descending Into The Cloud Forest)
DAY 4 CUSCO: Hike Sun Gate, Visit Machu Picchu Sanctuary
DAY 1: TRANSFER TO KM 82 – HIKE TO HUAYLLABAMBA
Pick up from the hotel at 🕐 06:00 am and transfer to the head of the Inca Trail at Piscacucho, Km 82 (2,850m/9,350ft), where we meet the porters. Three hours' drive to Piscacucho, and our car typically stops for an hour at Ollantaytambo for breakfast.
We begin our trip on the Inca Trail by crossing the Urubamba River on a bridge. Then we trek down the Urubamba River's left bank towards the Sacred Valley. We follow a level path to Miskay. Enjoy an airborne panoramic picture of the fantastic Inca City of Llactapata as we continue on our way.
Continue our hike through the Kusichaca Valley for about five hours until we reach Huayllabamba town (3,000m/9,840ft) and camp for the night. Throughout the drive, we marvel at the magnificent Vilcanota ridge on the other side of the Urubamba River. The Veronica peak towers above us at 5,832m (19,134ft).
The first day of the Inca Trail is easy and prepares for the days ahead.
Distance estimate: 12 km (7,47 miles), estimated walking time: 5-6 hours.
Overnight in camp.
Meals Included: Lunch and Dinner.
DAY 2: FROM HUAYLLABAMBA TO PAQAYMAYU (CROSSING THE HIGHEST POINT)
This day is the most challenging and high-altitude day on the Inca Trail, with an 11 km steep rise. Pack the day bag with lots of chocolates or candy to maintain blood sugar levels and prevent altitude sickness.
After breakfast, we begin our demanding day with a sharp climb to the Warmi Wañusca Pass, the Dead Woman's Pass (4,200m/13,776ft). Along this path, the surroundings transform into a mountainous terrain where we may see local alpacas and llamas grazing on the Ichu grass.
We walk downwards on a meandering trail that skirts around the valley next to our next campground. Additionally, we pass through a region known as the cloud forest, home to various species, including sparrows, hummingbirds, and the Andean bear, the spectacled bear.
After 6 hours of trekking, we descend into the valley of Paqaymayu (3,500m/11,480ft), where we find our campsite. Enjoy a wonderful meal and rest after an exhausting day.
Distance estimate: 11 km (6,84 miles), estimated walking time: 6-7 hours.
Overnight in camp.
Meals Included: Breakfast, lunch and dinner.
DAY 3: PAQAYMAYU TO WIÑAYHUAYNA (DESCENDING INTO THE CLOUD FOREST)
Following breakfast, we continue down the Inca Trail's longest and most spectacular route. Numerous ancient monuments, lush cloud forests, and thriving wildlife and flora of the Andes. We go from Paqaymayu to Abra Runkurakay (3,955m/12,975ft), the second pass.
About halfway up the Inca route, we will come across the ruins of Runkurakay, a semi-circular Inca dwelling with a view of the Paqaymayu valley. After a brief stay, we continue into the Cloud Forest to the Sayacmarca Archaeological Site.
Continuing the walk, we reach Abra Phuyupatamarca (3700m/12136ft) and descend to Phuyupatamarca, commonly known as "the town in the clouds," where we may explore this incredible Inca remnant.
We descend a long stone stairway to Wiñayhuayna (2,700m/8,858ft), an impressive Inca town with a vibrant agricultural complex, urban sector, and religious center near our camp.
It is the final official camp before Machu Picchu. Get enough sleep to see the magnificent sunrise at Machu Picchu.
Distance estimate: 16 km (9,94 miles), estimated walking time: 7-8 hours.
Overnight in camp.
Meals Included: Breakfast, lunch and dinner.
DAY 4: HIKE SUN GATE, VISIT MACHU PICCHU SANCTUARY
At around 🕐 04:00 am, we have breakfast and continue on the Inca trail to Machu Picchu, the last part of the journey, so we arrive at the Sun Gate by 06:00 am.
After 40 minutes of walking, we arrive at Machu Picchu (2,430m/7,972ft) via the "House of the Guardians." Machu Picchu (2,430m/7,972ft) was named a UNESCO World Heritage Site in 1983 and one of the New Seven Wonders of the World in 2007.
Around 🕐 08:30 am, the guided tour begins; the guide expertly directs through the astounding ruins and main streets. Then wander around the town squares and climb the intricately carved stairways made of stone. The guided tour takes around two hours and 30 minutes.
From 🕐 12:30 pm to 13:30, take the bus to Aguas Calientes.
From 🕐 13:30 to 15:00, take lunch at a local restaurant in Aguas Calientes.
Return to Cusco: Board the train to return to Cusco later in the day. Arrive at Poroy station and then be picked up and transported to the Cusco hotel. Distance estimate: 4 km (2,49 miles), estimated walking time: 2 hours.
Overnight in camp.
Meals Included: Breakfast and lunch.
*END OF OUR SERVICES*
SHARED SERVICE

FROM 2 PEOPLE UP
US$ 990 each
PRIVATE SERVICE

FOR 1 PERSON
US$ 2335
FOR 2 PEOPLE
US$ 1565 each
FOR 3 PEOPLE
US$ 1385 each
FOR 4 PEOPLE
US$ 1300 each
FROM 5 – 8 PEOPLE
US$ 1250 each
FROM 9 – 14 PEOPLE
US$ 1200 each
FROM 15 – MORE PEOPLE
US$ 1100 each
The clients will receive a briefing the night before the trek.
Pick up from the hotel and transfer to Km. 82.
Entrance fees to Inca Trail and Machu Picchu (but not Huayna Picchu Mountain).
Personal tents accommodate two people for greater comfort and security. Our tents are 4-season and well-maintained for field performance.
Each individual should bring an inflatable sleeping mat.
Dining tent with tables and chairs. Kitchen tent.
Toilet tent with bio-degradable toilet facilities.
English-speaking tour leader plus an assistant guide for groups of over eight trekkers.
Chef and cooking equipment.
Porters (to carry tents, food, and cooking equipment)
Personal porter for personal equipment 7kg (15lbs).
Meals (3 breakfast, 3-lunches, three dinners + daily morning snack + daily tea service except for last day). Vegetarian option available.
Lunch on the last day after visiting Machu Picchu.
A cloth bag for everyday snacks saves plastic bags and decreases waste.
We will provide boiled water from lunchtime on the first day.
Bio-degradable personal hand soaps.
Our kitchen staff uses bio-degradable dishwashing detergents.
Hot water every morning and evening for washing purposes / boiled water to fill in the water bottle every morning, night, and lunchtime.
We bring a first-aid kit, including an emergency oxygen bottle.
Bus ticket from Machu Picchu ruins down to the village of Aguas Calientes.
Train ticket from Aguas Calientes to Ollantaytambo or Poroy (Expedition train or similar) according to availability – we can upgrade to Vistadome service upon request.
Transfer from Poroy or Cusco train station to Cusco Hotel.
24-hour support by our local staff.
The price does not cover domestic or international flights. Consult a travel agency if necessary.
VISA procedures, travel insurance, pre, and post-tour accommodation.
Additional personal costs (alcoholic beverages, laundry).
The price does not cover gratuities for tour guides, drivers, and support staff.
Guidance in another language (Germany, French, others), in case you request them, please ask your travel agent.
Additional items are not included explicitly in the itinerary description.
Entrance fee to Huayna Picchu or Machu Picchu Mountain.
Breakfast on the first day.
Entrance fee to the Aguas Calientes thermal springs.
Sleeping bag.
Related Packages in Cusco