Hiking Inca Trail (5D/4N)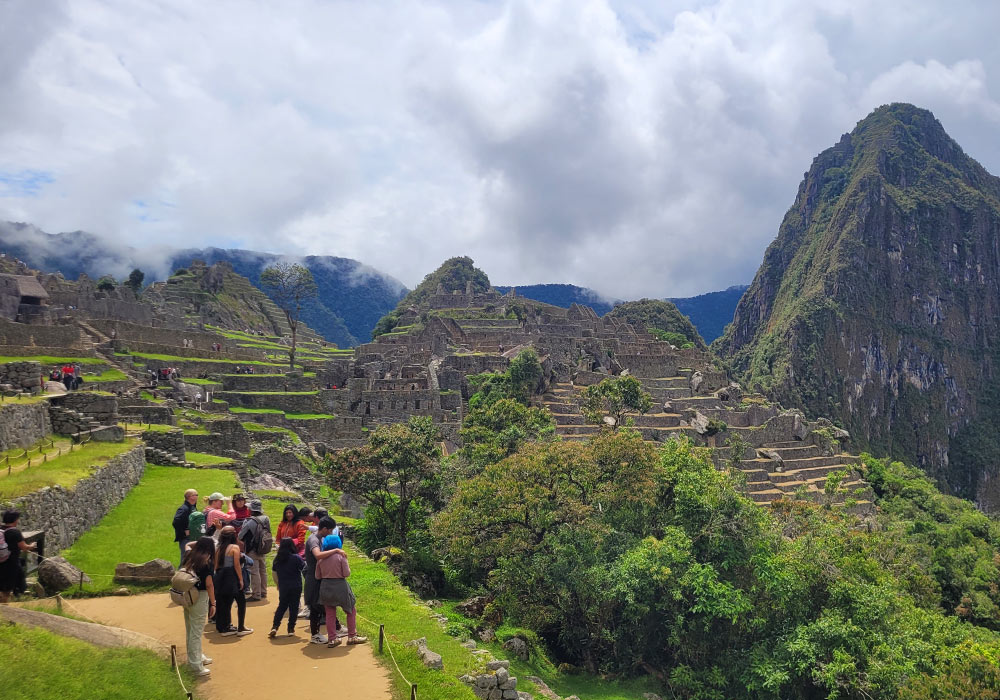 Immerse yourself in the archeological and cultural wonders of the Incas. The 5-day travel to Machu Picchu allows you to enjoy breathtaking scenery and magnificent views of the ancient treasures of the Incas that include ancient Incan capital of Cusco and one of the Wonders of the World, Machu Picchu. The Short Inca Trail is comprised of a 10-kilometer 01-day hike with an overnight accommodation in Aguas Calientes and a sunrise tour of the Iconic Machu Picchu site.
DAY 1 CUSCO: Transfer to Km 82, Hike to Llactapata
DAY 2 CUSCO: Hike from Llactapata to Llulluchapampa
DAY 3 CUSCO: Hike from Llulluchapampa to Phuyupatamarca
DAY 4 CUSCO: Hike from Phuyupatamarca to Machu Picchu – Aguas Calientes
DAY 5 CUSCO: Visit the Sanctuary of Machu Picchu
DAY 1: TRANSFER TO KM 82 – HIKE TO LLACTAPATA
At 🕐 07:00 a.m., we are picked up from the hotel and sent to Piscacucho, Km 82 (2,850m/9,350ft), where we meet the porters.
The drive from Cusco to Piscacucho takes around three hours.
On the route, our van often makes an hour-long stop at Ollantaytambo so that passengers may have breakfast.
We begin the Inca Trail crossing a suspension bridge above the Urubamba River.
Then, we stroll along the Urubamba River's left bank as it flows northwest into the Sacred Valley.
Arrive at Llactapata (2788m/9147ft), the remnants of a magnificent administrative and astronomical structure.
Set up camp with the assistance of our staff, dine on a freshly-prepared dinner, and reflect on the success of our first day.
Distance estimate: 8 km (4.97 miles).
Estimated walking time: 4-5 hours.
Overnight in camp.
Meals Included: Lunch and dinner.
DAY 2: HIKE FROM LLACTAPATA TO LLULLUCHAPAMPA
We awake to continue our trip through the valley formed by River Kusichaca; we begin rising for around five hours until we reach Huayllabamba (3,000m/9,840ft).
All along the route, there are breathtaking views of the Vilcanota mountain range on the other side of the Urubamba River.
The imposing Veronica peak stands at 5,832 meters (19,134 feet). Begin the most challenging stretch of the hike, a 9-kilometer ascent to the first mountain crossing on the Inca Trail, the Warmiwausca Pass, also known as the Dead Woman's Pass.
We halt halfway up the pass at Llulluchapampa and only ascend halfway up the pass. A steeper Inca path will lead us to the lovely cloud woods, where flora and wildlife thrive. Possible to see hummingbirds amid the tropical plants. The route goes to Llulluchapampa (3680m/12073ft), a grassy area favored by Andean deer with a spectacular vista. Here, we conclude the day and set up camp.
Distance estimate: 9 km (5.59 miles).
Estimated walking time: 5-6 hours.
Overnight in camp.
Meals Included: Breakfast, lunch and dinner.
DAY 3: HIKE FROM LLULLUCHAPAMPA TO PHUYUPATAMARCA
Our difficult day begins with a steep ascent to the Warmiwausca Pass, commonly known as the Dead Woman's Pass (4,200m/13,780ft). Along this walk, the landscape changes to a hilly area where alpacas and llamas graze on Ichu grass.
We go down to the Paqaymayu valley (3,500 m/11,480 ft), where we start the climb to the Runkurakay Pass (3,955m/12,970 ft). From here, we keep going down a winding path around a valley. We also go through the "cloud forest," where birds like sparrows, hummingbirds, and the Andean bear, also called the "Spectacled Bear," live.
About halfway along the Inca trail, we will see what is left of Runkurakay. This half-circle Inca home looked out over the Paqaymayu valley. After a short stop, we head into the Cloud Forest to the Archaeological site of Sayacmarca, which we can explore. Then we keep going to the third mountain pass at Abra Phuyupatamarca and down to the Phuyupatamarca
archaeological site (3600m/11811ft).
We set our camp in Phuyupatamarca and spent the night there.
Distance estimate: 11 km (6.83 miles), estimated walking time: 7-8 hours.
Overnight in camp.
Meals Included: Breakfast, lunch and dinner.
DAY 4: HIKE FROM PHUYUPATAMARCA TO MACHU PICCHU – AGUAS CALIENTES
We leave after breakfast. If the sky is clear, we may view one of the most stunning Inca Trail sunrises from Phuyupatamarca.
We descend a long stone stairway to reach Wiñayhuayna (2,700m/8,858ft), a neighboring Inca city with an agricultural complex, urban sector, and religious core.
After our visit, we will have lunch with the porters. Then, the porters and chefs are thanked for their hard work.
We leave Wiñayhuayna to hike to Sun Gate (2,670m/8,759 ft). We face truly memorable scenery, a blend of natural beauty and man's creativity in the form of the enchanting city of Machu Picchu framed by spiraling canyons and forested peaks.
The final 45 minutes are spent walking down the royal flagstone pathway into Machu Picchu's core.
On arrival, we will watch the sunset and visit Machu Picchu sans crowds before boarding a bus to Aguas Calientes.
Our day ends at Aguas Calientes (2,050m/6,726ft); take 30 minutes buses down.
Distance estimate: 8 km (4.97 miles), estimated walking time: 5-6 hours.
Overnight at the Hotel in Aguas Calientes.
Meals Included: Breakfast, lunch and dinner.
DAY 5: VISIT THE SANCTUARY OF MACHU PICCHU
Hotel breakfast; at 🕐 06:00 am. Take a bus to the Machu Picchu archaeological site (2,430m/7,972ft). Declared a UNESCO World Heritage Site in 1983 and one of the New Seven Wonders of the World in 2007, the mountaintop fortress earned every bit of its notoriety.
Around 🕐 07:30 am, the guided tour begins; the guide expertly directs through the astounding ruins and main streets. Then wander around the town squares and climb the intricately carved stairways made of stone. Machu Picchu is considered the world's spiritual center by esoteric wisdom.
The guided tour takes around two hours and 30 minutes.
From 🕐 12:30 pm to 13:30 pm, take the bus to Aguas Calientes.
From 🕐 13:30 to 15:00 pm, take lunch at a local restaurant in Aguas Calientes.
Board the train to return to Cusco later in the day.
Arrive at Poroy station and then be picked up and transported to the Cusco hotel.
Overnight at the Hotel in Aguas Calientes.
Meals Included: Breakfast and Lunch.
*END OF OUR SERVICES*
PRIVATE SERVICE

FOR 1 PERSON
US$ 2575
FOR 2 PEOPLE
US$ 1755 each
FOR 3 PEOPLE
US$ 1560 each
FOR 4 PEOPLE
US$ 1450 each
FROM 5 – 8 PEOPLE
US$ 1400 each
FROM 9 – 14 PEOPLE
US$ 1350 each
FROM 15 – MORE PEOPLE
US$ 1250 each
The clients will receive a briefing the night before the trek.
Pick up from the hotel and transfer to Km. 82 (starting point of the trail).
Entrance fees to Inca Trail and Machu Picchu (but not Huayna Picchu Mountain).
Personal tents accommodate two people for greater comfort and security. Our tents are 4-season and well-maintained for field performance.
Each individual should bring an inflatable sleeping mat.
Dining tent with tables and chairs. Kitchen tent.
Toilet tent with bio-degradable toilet facilities.
English-speaking tour leader plus an assistant guide for groups of over eight trekkers
Chef and cooking equipment.
Porters (to carry tents, food, and cooking equipment)
Personal porter for personal equipment 7kg (15lbs).
Meals (3 breakfast, 3-lunches, three dinners + daily morning snack + daily tea service except for last day). Vegetarian or special diets are available at no extra cost.
Lunch on the last day after visiting Machu Picchu.
A cloth bag for everyday snacks saves plastic bags and decreases waste.
We will provide boiled water from lunchtime on the first day.
Bio-degradable personal hand soaps.
Our kitchen staff uses bio-degradable dishwashing detergents.
Hot water every morning and evening for washing purposes / boiled water to fill in the water bottle every morning and night, and at lunchtime.
We bring a first-aid kit, including an emergency oxygen bottle.
Round trip bus ticket Aguas Calientes – Machu Picchu citadel – Aguas Calientes.
Train ticket from Aguas Calientes to Ollantaytambo or Poroy (Expedition train or similar) according to availability – we can upgrade Vistadome service upon request.
Transfer from Poroy or Cusco train station to Cusco Hotel.
24-hour support by our local staff.
Accommodation: one night in Aguas Calientes hotel with breakfast included.
The price does not cover domestic or international flights. Consult a travel agency if necessary.
VISA procedures, travel insurance, pre, and post-tour accommodation.
Additional personal costs (alcoholic beverages, laundry).
The price does not cover gratuities for tour guides, drivers, and support staff.
Guidance in another language (Germany, French, others), in case you request them, please ask your travel agent.
Additional items are not included explicitly in the itinerary description.
Entrance fee to Huayna Picchu or Machu Picchu Mountain.
Breakfast on the first day.
Entrance fee to the Aguas Calientes thermal springs.
Sleeping bag.
Related Packages in Cusco