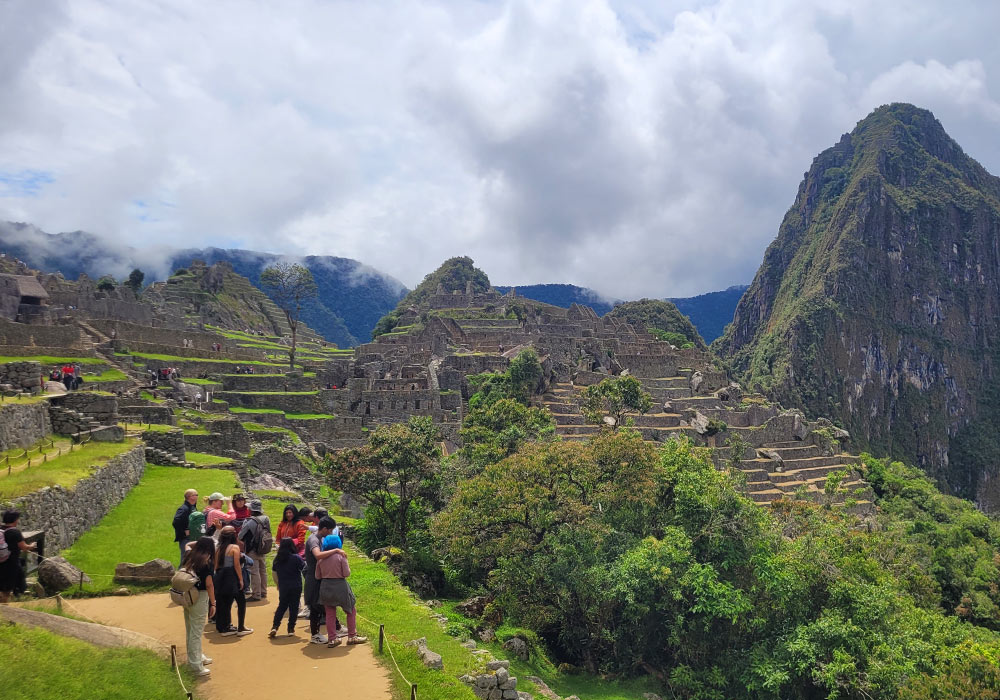 The Short Inca Trail Tour is the most famous hike in Peru, attracting thousands of enthusiasts each year. The Short Inca Trail is comprised of a 10 kilometer hike with an overnight accommodation in Aguas Calientes and a sunrise tour of the iconic Machu Picchu archaeological site on day 2.
DAY 1 – INCA TRAIL: KM 104 TO AGUAS CALIENTE
 Pick up at 05:40 am from the hotel and transfer to Poroy station to board the train to KM 104 and meet the guide.
The train will stop at the Chachabamba archaeological site (2,170m/7,119ft) head of the trail; we begin the 5-hour climb to the Inca Trail. This path rewards us with amazing views of the big valley and gorgeous waterfall near the famous Wiñayhuayna Archaeological Site (2,700m/8,858ft), which translates as "Forever Young."
We continue along tiny trails with luxuriant flora of broad-leaf plants and giant ferns. The precipice of the high mountain adds to the thrill. The Sun Gate's (2,670m/8,759 ft) stone threshold materializes unexpectedly along the route.
Behold the magnificent city of Machu Picchu, surrounded by twisting gorges and wooded peaks. The remaining 45 minutes were spent going towards the Machu Picchu entrance.
There are 30-minute buses from Machu Picchu citadel to Aguas Calientes (2,050m/6,726ft).
Approximate distance: 10 km (6, 21 miles) – Estimated time walking: 5-6 hours. 
Overnight at the Hotel in Aguas Calientes.
Meals Included: Box lunch and Dinner.
Expedition train — Cusco (06:40am) – Km 104 (09:20am)
DAY 2 – VISIT MACHU PICCHU & BACK TO CUSCO
Hotel breakfast; at 06:00 am. Take a bus to the Machu Picchu archaeological site (2,430m/7,972ft). Declared a UNESCO World Heritage Site in 1983 and one of the New Seven Wonders of the World in 2007, the mountaintop fortress earned every bit of its notoriety.
Around 07:30 am, the guided tour begins; the guide expertly directs through the astounding ruins and main streets. Then wander around the town squares and climb the intricately carved stairways made of stone. Machu Picchu is considered the world's spiritual center by esoteric wisdom.
The guided tour takes around two hours and 30 minutes.
From 12:30 pm to 13:30, take the bus to Aguas Calientes.
From 13:30 to 15:00, take lunch at a local restaurant in Aguas Calientes.
Return to Cusco: Board the train to return to Cusco later in the day. Arrive at Poroy station and then be picked up and transported to the Cusco hotel.
Meals Included: Breakfast, Lunch.
Expedition train — Aguas Calientes (15:20pm) – Cusco (19:05pm)
 The itinerary includes all admission costs (Short Inca Trail and Machu Picchu).
English-speaking local guides lead the trek (an assistant guide for groups of over eight trekkers).
All transfers: airport, train station, bus station transfers, Hotel pickup, and drop-offs.
Train ticket: Cusco to Km 104 and Aguas Calientes to Cusco (Expedition Class).
Meals: According mentioned in the itinerary (vegetarian or special diets are available).
We bring a first-aid kit, including an emergency oxygen bottle.
All ground transportation.
24-hour support by our local staff.
Accommodation: one night in Aguas Calientes hotel with breakfast included.
The price does not cover domestic or international flights. Consult a travel agency if necessary.
VISA procedures, travel insurance, pre, and post-tour accommodation.
Additional personal costs (alcoholic beverages, laundry).
The price does not cover gratuities for tour guides, drivers, and support staff.
Guidance in another language (Germany, French, others), in case you request them, please ask your travel agent.
Additional items are not included explicitly in the itinerary description.
Entrance fee to Huayna Picchu or Machu Picchu Mountain.
Everyday starting at: 5:40 am
NOTE: It is recommended to make the reservation 24 hours before.
Related Packages in Cusco