Lima City Tour + Pick up & Drop Off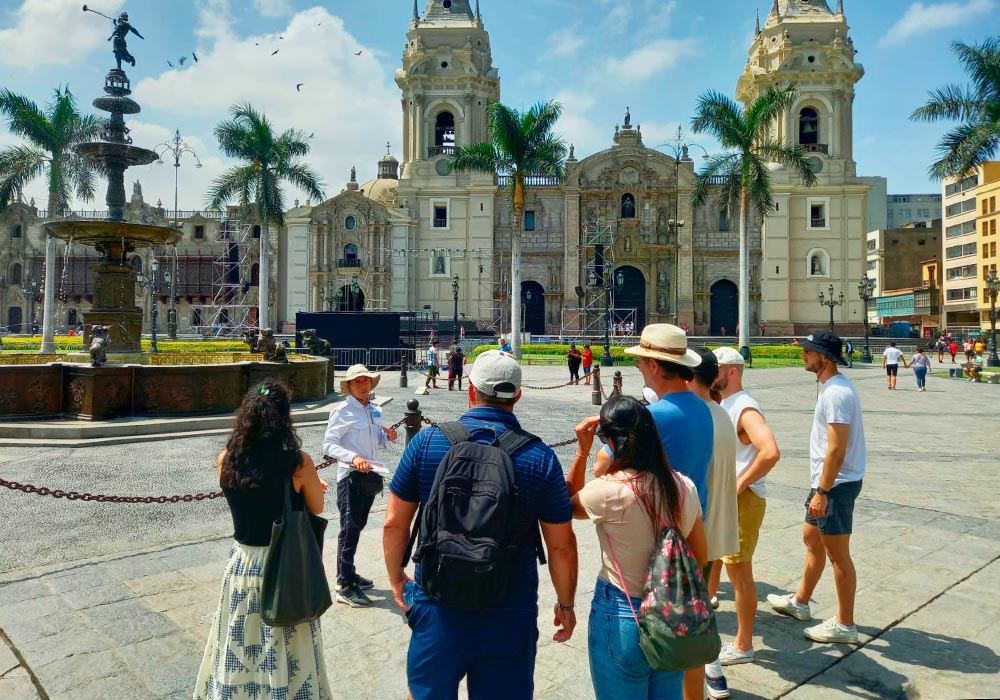 Delve into the history of Lima and discover the best the city has to offer during this informative walking tour. Explore the historical center of the Peruvian capital while listening to informative commentary from your guide. Visit sights such as the Presidential Palace, the catacombs of the San Francisco Monastery, the ancient Dominicans Tower and more.
We are going to pick you up from your accommodation and with our expert local guide we'll take you to a fascinating Lima city walking tour around our Historical Center.
Get acquainted with the capital of Perú, learn about when it was founded and became the "City of the Kings". Admire the colonial buildings that line the streets.
It's different, classic and unique! We will show you Palaces and Castles our city hides, we are also going to take you to our great Saint Francisco Monastery and the impressive underground catacombs.
Our historical center is considered a World Heritage Site protected by UNESCO since 1991 because of all the colonial buildings the city has.
Lima also stands as one of the oldest capital in South America, as it was founded by the Spaniards in 1535 and became the "City of the Kings", the most important city for the Spanish Viceroyalty in the whole continent.
For sure, we won't miss The Main Square, where we are going to learn about the history of the square. Beside this, you will get the best pictures of the Archbishop's Palace, The City Hall of Lima and The Cathedral.
Other great places to visit are: San Martin Square, the highest tower in Lima (40m) that belongs to Saint Dominic Convent, the train station Palace, the unique old-fashioned Cordano Bar, De la Union Pathway, the first photoshop Palace in southmerica, the post office Palace, the Historical Rimac Bridge and the lovely surrounded wooden Balconies.
After the tour, we will take you back to your hotel.
For 1 person: 42 USD
For 2 – 3people: 36 USD each
For 4 – 6 people: 34 USD each
For 7 – 10 people: 30 USD each
Pick up from your hotel

Transport

Professional tour guide

Tour in English/Spanish

Customized service

All entrance tickets

Catacombs

Tolls

Parking

Return transport to your place
All of our prices included pick up and drop off to your hotel only when it is located in: Miraflores, San Isidro or Barranco. Outside of these areas, we ask that you pay a small fee for your pick up and drop off to your hotel location.
Monday – Sunday: 09:00 am or 14:00 pm
Comfortable clothes and shoes

Sunglasses

Sunscreen

A hat

Water

Battery for your camera