Peruvian Cooking Class + Local Market Tour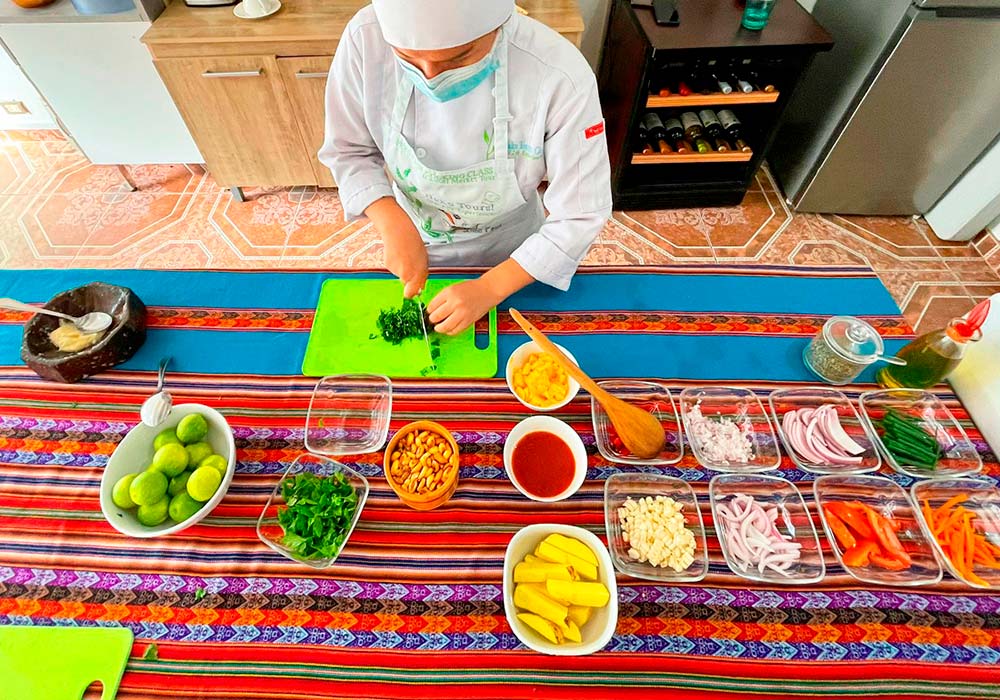 This class is for people who want to taste Peruvian food and also want to learn how to make it at home! You'll love the fun and relaxed atmosphere with no dull demo's, because we believe in the hands-on approach.
Learn about Peruvian ingredients, practice culinary techniques, prepare classic Peruvian dishes and of course enjoy the lunch or dinner that you helped to create!
1. FISH OPTIONS:
 Ceviche (Starter): Small  pieces of fresh fish marinated in lemon juice, tender onions, cilantro, boiled sweet potatoes and corn, mixed with or without hot chilis.


Pescado a la Chorrillana (Main Course): Fried fish fillet covered with a sauce made of onions, tomatoes, garlic and chili peppers. It is usually served with sweet potatoes and rice.
2. CHICKEN OPTIONS:
Causa Rellena (Starter): Layers of mashed potatoes seasoned with Peruvian yellow chilli, lemon and  filled with chicken, vegetables or quinua.

Ají de gallina (Main Course): Shredded chicken in yellow chilli sauce, served over potatoes and accompanied by white rice. Other ingredients are garlic, onion, yellow pepper, pecans and parmesan cheese.
3. BEEF OPTIONS:
Papa Rellena (Starter): Little balls made of mashed potatos filled with meat, vegetables or quinua. Once it's closed and deep fried, it is served with "salsa criolla".
Lomo saltado (Main Course): Beef tenderloin slices stir fried in a wok with onions, tomatoes, Peruvian yellow chilli peppers, and more spices. It is served with french fries and rice.
4. VEGETARIAN OPTIONS
Solterito: Fresh faba beans salad with green peas, cheese, tomatoes, corn and olives.
Pimento Relleno (Main Course): Stuffed capsicum, filled up with fresh organic vegetables, quinua and aromatic herbs.
For 1 person: 75 USD
For 2 – 3 people: 60 USD each
For 4 – 6 people: 55 USD each
For 7 – 10 people: 50 USD each
Note:
The prices provided are for shared groups, if you want a private service  ask for availability please.
We want to inform you that, on all public holidays in Peru, our prices will have a 50% increase.
Pick up from your hotel
Professional chef
Guide in English or Spanish
Local market tour
Snacks
1 starter and 1 main course
Chicha morada
Exotic fruit tasting
Return transport
All of our prices included pick up and drop off to your hotel only when it is located in: Miraflores, San Isidro or Barranco. Outside of these areas, we ask that you pay a small fee for your pick up and drop off to your hotel location.
Monday – Sunday: 8:30 am or 13:30 pm