The Rainbow Mountain Tour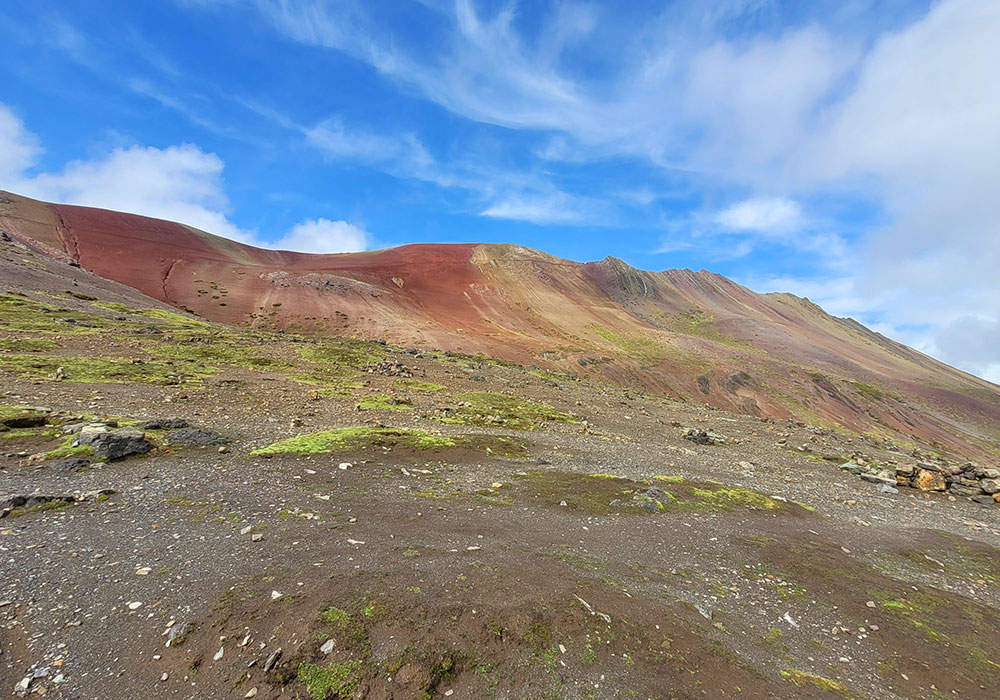 Come to Peru's sacred mountains to give your mind, body and soul a break from the daily grind. Seize the chance to journey through an undiscovered terrain full of desert landscapes and snow-capped peaks that reach into heaven. As you pass through lush, emerald-colored valleys, you'll be inspired by views of Ausangate Mountain standing like a god-carved monolith in the distance. Of course, all of this will lead up to the exiting moment when you first spot the colored minerals that formed the painted hills you're walking through.
Pick up at 04:00 am from the hotel and a 3-hour drive to trailhead. Stop at Cusipata; afterward, we continued towards Phullawasipata (4626m/15,177ft).
Enjoy the ride as we pass alpaca and llama herds. Bring a camera since we will be seeing Ausangate Mountain. Also, take a stroll through rural areas and meet the residents.
The hike to Vinicunca Rainbow Mountain (5,030m/16,498ft) takes 1 hour and 30 minutes.
Upon reaching the red hill, we will have breathtaking views of the distinctively colored rock formation that gives Rainbow Mountain its name: turquoise, orange, brown, and red sedimentary rock strata. Once we reach the peak, we will have a chance to eat and take in the panoramic views. Typically, the break lasts 45 minutes.
It is time to descend after soaking in the beautiful vistas.
Returning to the trailhead should take lunch before traveling to Cusco.
We will embark on the 3-hour drive back to Cusco and drop off at the Cusco hotel.
The approximate arrival time is between 17:00 pm.
The estimated walking distance is 6 km (3.73 miles). Estimated walking time, 2 to 3 hours.
Highlights
Level of Difficulty: Challenging.
Highest Elevation: 5,030m/16,498ft.
Distance to walk: 6 km / 3,73 miles.
Walking time: 2 hours and a half up; 1 hour and a half down
NOTE:
Due to restrictions on the city's access roads, pickups from some hotels may be on foot
Maximum groups of 16 people
All travelers under age 18 must be accompanied by an adult.
Price with Pick up and Drop off
From 2 people up: 117 USD each
Professional English-speaking guide.
Pre-departure briefing at your hotel 1 or 2 days before the hike.
Pick up from your hotel and transportation to Phullawasipata (head of the trail).
Return transportation from Phullawasipata to your Cusco hotel.
Meals: lunch.
24-hour support by our local staff
Breakfast.
Tips, Travel /Health / Emergency insurance.
Horse to ride (you can rent at Phullawasipata one horse + horseman cost S/. 70 Peruvian Soles)
Monday – Sunday:  4:OO am
Departures are available along the year although due to weather conditions, the recommended period for this trek is April to November
Regarding the Level of Difficulty
Preparation is essential if you want to enjoy a comfortable, healthy experience during this once-in-a-lifetime journey. The journey to Vinicunca Rainbow Mountain is a challenging trek that will last a full day and bring you to an elevation above 16,498 feet. It is recommended that you are in good physical condition before attempting to take on this adventure. Make sure you are properly rested prior to the start of the journey. It is recommended that you stay in Cusco or a place with similar elevation for at least two days before your journey begins. Doing so will help you to properly acclimatize. Remember to drink plenty of water and stay hydrated the day prior to the hike.